A funny thing happened a few weeks back: I had an unexplained craving for scallops. Up until that time, I wasn't even sure that I liked scallops. In fact, I was pretty sure I didn't. Logic tells me that somewhere, deep down, that craving was calling to a primal memory of enjoying scallops that I must have had at some point in my life.
Given that the craving was unexpected, I hadn't planned a thing. Naturally, I scoured the internet and came up with this recipe from She Cooks He Cleans. All in all a success, although I found out scallops are rather pricey.
Read More…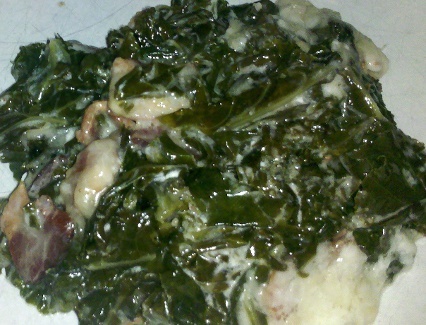 As promised, here is that recipe for the bacon and kale gratin that I made to serve with the marinated beer brats. Yes, I did eat 1/2 of the pan. Yes, in a single sitting. I couldn't help myself. Thank you Pinterest for shortening my life with this recipe discovery.
Read More…
Read More…
A party three and a half years in the making actually came to fruition yesterday. There's no reason it actually should have taken that long to happen, and there was nothing about it that would have seemed like it took that long to plan, but it did.
Read More…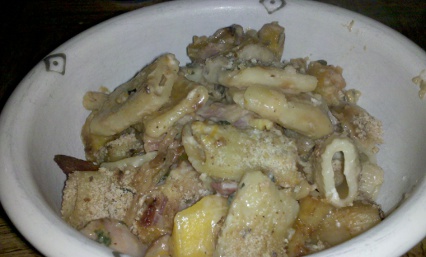 Here's a recipe that's gone straight to my make again list. The combination of flavors packs a punch - it's creamy, salty, slightly sweet, and tart. The original recipe comes from Foodess. As far as I'm concerned, she had one fatal flaw with her recipe: she only uses 3 slices of bacon.
Read More…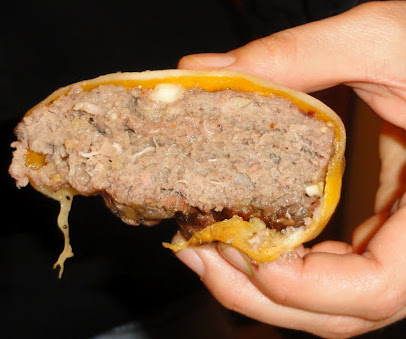 Don't be fooled by appearances, this is no ordinary burger. This is a special burger, a burger comprised of 50% ground beef and 50% ground bacon. It's pretty easy, a little bit messy, and a lot delicious. The idea came from a local restaurant that I've only had dreams of visiting, Slater's 50/50. I hope to make the trip there someday soon, but in the mean time, this is an adequate substitute.
Read More…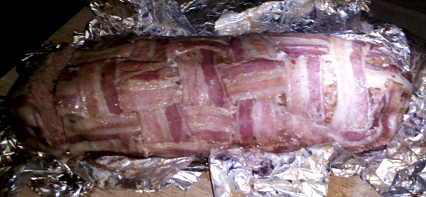 First, I must acknowledge that the pictures just don't do this justice. It literally was gone from the serving table in minutes. I should have made 2. Or 3.
Ever since Bacon Explosion blew up on the internet in 2008, it's been in my thoughts. It wasn't until this year that I finally got the opportunity to make it. This year I decided to rent a bounce house and have a fat pants birthday party. Bacon explosion was the highlight of the menu, but it also included chips and dips, meats and cheeses, grilled bacon wrapped jalapeno poppers, super cheesy crock pot mac and cheese, Unicorn Poop Cookies, an ice cream sundae bar, and Reese's Stuffed Chocolate Covered Oreos. If this weren't a bacon site, I'd have a lot to talk about. I'll address the bacon wrapped jalapeno poppers later, for now, let's talk Bacon Explosion.
Read More…
I'm sure you've heard all about it by now. Jack In The Box's limited edition Bacon Milkshake is taking the internet by storm. But there's more at marrybacon.com.
The bacon tuxedo, for example.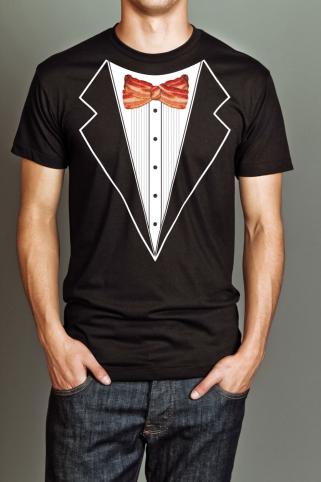 Or the bacon baby app.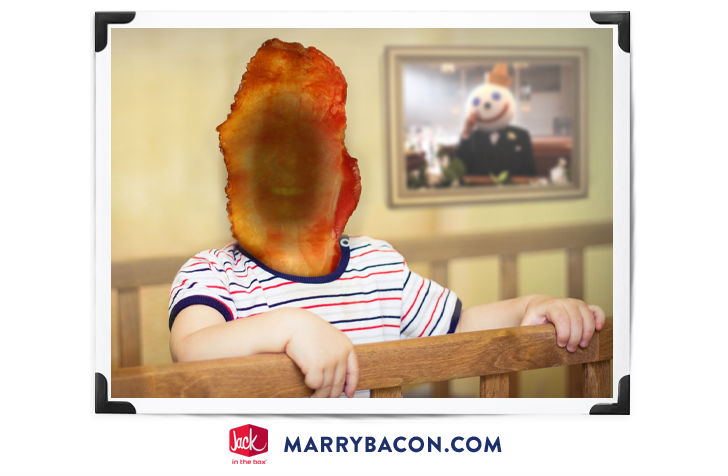 And yes, Neil really does want to marry bacon. I don't blame him.
Read More…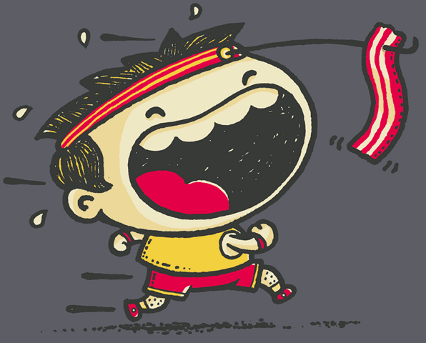 Today only at Woot, a shirt I can proudly wear that represents precisely what it takes to get me to work out.
Read More…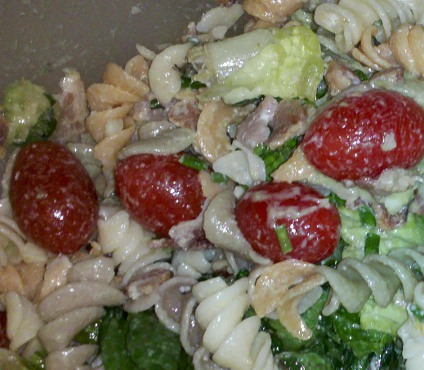 I needed an easy, high yield recipe for a potluck recently, so I took to the internet and found two BLT Salad recipes, one at AllRecipes and one from Rachael Ray. I combined the two recipes into one and added avocado, mainly because I wasn't satisfied with either recipe in its entirety and also because I wanted to take advantage of things that I had on hand. The recipe at AllRecipes calls for croutons, which I did not use. I think croutons or bread crumbs are key - the salad version that I made really lacked that toasted white bread taste of a delicious BLT Sandwich.
Read More…