A party three and a half years in the making actually came to fruition yesterday. There's no reason it actually should have taken that long to happen, and there was nothing about it that would have seemed like it took that long to plan, but it did.
Read More…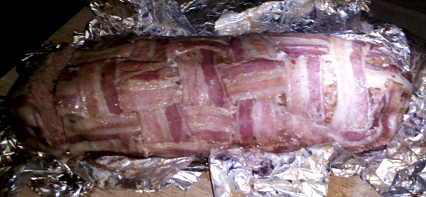 First, I must acknowledge that the pictures just don't do this justice. It literally was gone from the serving table in minutes. I should have made 2. Or 3.
Ever since Bacon Explosion blew up on the internet in 2008, it's been in my thoughts. It wasn't until this year that I finally got the opportunity to make it. This year I decided to rent a bounce house and have a fat pants birthday party. Bacon explosion was the highlight of the menu, but it also included chips and dips, meats and cheeses, grilled bacon wrapped jalapeno poppers, super cheesy crock pot mac and cheese, Unicorn Poop Cookies, an ice cream sundae bar, and Reese's Stuffed Chocolate Covered Oreos. If this weren't a bacon site, I'd have a lot to talk about. I'll address the bacon wrapped jalapeno poppers later, for now, let's talk Bacon Explosion.
Read More…