Seared Scallops with Apple Cider Balsamic Glaze
A funny thing happened a few weeks back: I had an unexplained craving for scallops. Up until that time, I wasn't even sure that I liked scallops. In fact, I was pretty sure I didn't. Logic tells me that somewhere, deep down, that craving was calling to a primal memory of enjoying scallops that I must have had at some point in my life.
Given that the craving was unexpected, I hadn't planned a thing. Naturally, I scoured the internet and came up with this recipe from She Cooks He Cleans. All in all a success, although I found out scallops are rather pricey.
This recipe seems a little upscale for my personal home cooking tastes. I'd generally consider that the case when you serve something on a "bed of cooked greens" and you don't call it a salad. Despite all that, it was surprisingly easy and not time consuming either. Something I'd recommend on a day that you just want to try something new.
Ingredients:
10 jumbo sea scallops
3 slices bacon
1 bag baby spinach
4 oz cremini mushrooms, chopped
3 TBSP butter
.75 cup apple cider
2 TBSP balsamic vinegar
1 TBSP honey
Make sure your scallops are dry. I did this by putting them on a plate with a paper towel and blotting the tops. Once they're dry, season with salt and pepper.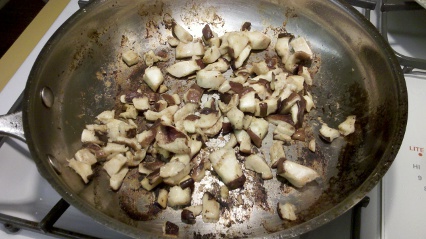 Cook your bacon in a pan. When the bacon is crisp, set it aside. Eventually, you'll want to chop it up. Remove all but about 2 TBSP of bacon grease in the pan and heat it up. Once it's hot, toss your mushrooms in the pan and cook them in the bacon grease. When they're done, remove them from the pan.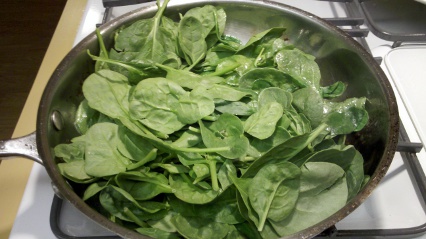 Add 1 TBSP of butter to the pan. Once it's melted, add your spinach. Cook until it's wilted, then add the mushrooms and bacon. Adjust your seasonings if necessary and put the mixture aside.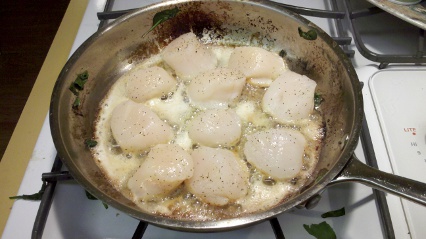 Melt 2 TBSP of butter in your pan on high heat. Add your scallops and leave them untouched for 3-4 minutes. After that time you should have a beautiful brown crust on them and they are safe to turn. Do it all over again on the other side. While your scallops are cooking, whisk together the cider, vinegar, and honey in a bowl.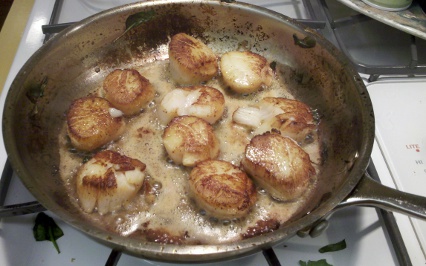 When the scallops are done, remove them from the pan. Pour your cider mixture into the pan and cook for about a minute, until it has thickened.
Distribute your spinach among 2-3 plates, place the scallops on top of the spinach, and top with the sauce. Enjoy!
Comments: