BLTA Pasta Salad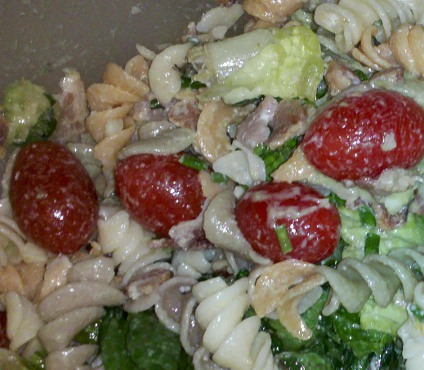 I needed an easy, high yield recipe for a potluck recently, so I took to the internet and found two BLT Salad recipes, one at AllRecipes and one from Rachael Ray. I combined the two recipes into one and added avocado, mainly because I wasn't satisfied with either recipe in its entirety and also because I wanted to take advantage of things that I had on hand. The recipe at AllRecipes calls for croutons, which I did not use. I think croutons or bread crumbs are key - the salad version that I made really lacked that toasted white bread taste of a delicious BLT Sandwich.
Ingredients:
1 lb bacon
3/4 cup Mayonnaise
1/4 cup Milk
1 tsp garlic powder
1/8 tsp black pepper
1/4 tsp salt
1 package of pasta (corkscrew works well)
1 package of Bibb Lettuce or Head of Romaine (something crunchy), torn into many pieces
1 package of grape tomatoes
2 avocados, cut into cubes
1 bunch green onions or chives, chopped
Cook bacon using your preferred method. Chop once it has cooled.
Cook pasta according to the package directions. Set aside.
Mix all the ingredients. If you are not going to serve shortly after preparing, hold off on cutting and adding the avocados, the lettuce, and the green onions. You want to add those at the last minute to keep them as crunchy as possible.
Comments: