Bacon and Kale Gratin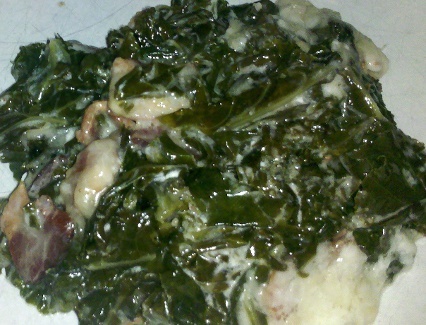 As promised, here is that recipe for the bacon and kale gratin that I made to serve with the marinated beer brats. Yes, I did eat 1/2 of the pan. Yes, in a single sitting. I couldn't help myself. Thank you Pinterest for shortening my life with this recipe discovery.
What I learned from this recipe is that kale absorbs the flavor of what you cook it with. Sign me up for bacon flavored kale anytime. This was really rich, and incredibly unhealthy. The benefits of the kale are largely outweighed by bacon, bacon fat, cheese, and cream. Did I mention it's delicious? Adapted from: Christie's Corner
Ingredients:
4 slices bacon
1 bunch kale
1 cup chicken broth
2 TBSP flour
1 TBSP butter, cubed
1/4 cup parmesan
1/2 cup heavy cream
Pan fry your bacon until it's done but not quite crisp. Put your bacon aside on a paper towel to drain it. You're going to want to remove some of the bacon fat from your pan before you cook the kale. The original recipe does not call for that, but I think it improves the end product. After a few minutes of fat draining, chop your bacon into pieces. I like to use a kitchen scissors.
Add the kale to the pan with your bacon fat. Cook until the kale is bright green, about 5 minutes. At this point you'll add your chicken stock and you'll put your chopped bacon in the pan. For ease, I like to use my kitchen scissors to chop the bacon right into my pan. Cover your mix and cook. After about 10 minutes, remove the lid and continue to cook until there is no liquid left in the pan. Once that's occurred, add the flour and make sure it's been completely absorbed. Season your kale with salt and pepper if you feel it's necessary, but I assure you, it's not.
Add the kale to a greased dish in an even layer. Spread your butter cubes, add your cheese, and pour your cream over the top of it all. Bake for 30 minutes, until the cheese is brown. Now you may enjoy your vegetable heart attack.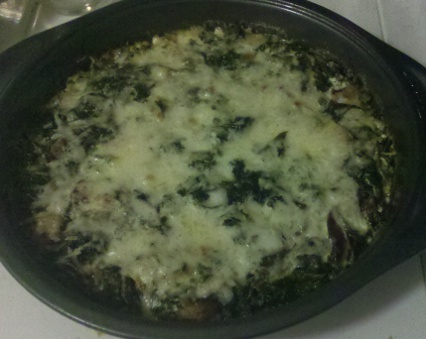 Comments: