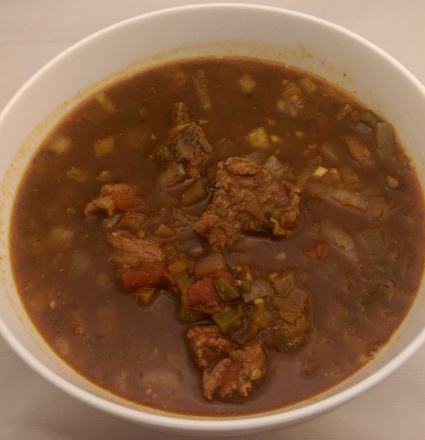 This fail is my fault and it could have been avoided. I cook a lot of chicken with my slow cooker and with enough trial and error I've solved the dryness problem (hint: it involves liquid, a mixture of chicken breasts and thighs, and just the right amount of cooking time on low). I rarely cook any type of beef. So, when I found what sounded like a delicious recipe for Texas Beef Chili on Once Upon a Chef, I tried to outsmart my cow and prepared the recipe as outlined except I put everything into the slow cooker. The result was excellent flavored chili with very tough and dry meat.
Read More…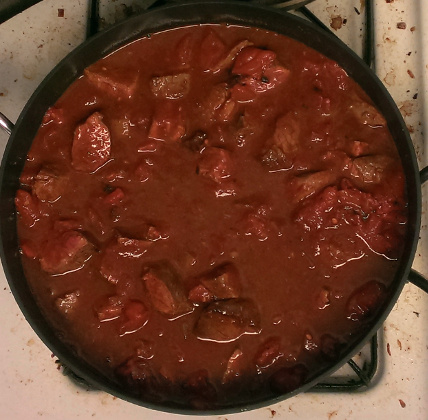 Last week, I went to the store without a plan, which is generally a bad idea. Normally, I'm not so good at shopping without something specific in mind and I end up with 11 ingredients that don't go well together and a pint of ice cream. I had it in my head that I wanted something beefy, but I wasn't sure what that might be. When I saw boneless short ribs, I remembered a really delicious short rib chili I once had, so I Googled a recipe while I was in the store, picked up all of the ingredients, and off I went to cook. Food 52's Short Rib Chile was actually third on Google's list of results, but it has recently become a favorite site of mine so it was a no brainer.
Read More…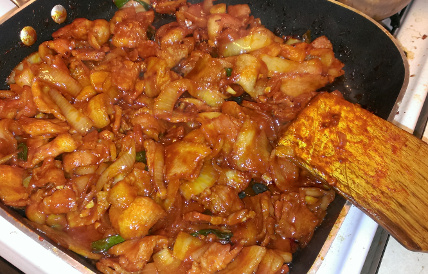 In the last month, I've managed to make four recipes I found at maangchi.com. Originally, I was just trying to figure out what to do with a nearly full tub of koren hot pepper paste (gochujang) leftover from a recipe I tried months ago. I was immediately smitten by her. The recipes all looked great and she made cooking korean dishes seem easy despite all of the "exotic" ingredients. After my first success with Spicy Braised Chicken (Dak-bokkeumtang), I ventured further into the site and found several other recipes I was interested in trying, including her recipe for Spicy Stir Fried Pork (Dwaejigogi-bokkeum). Having had all of the ingredients on hand except pork belly, I substituted that with bacon and called it dinner.
Read More…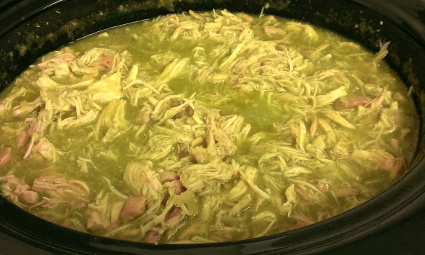 A few weeks back I made Roasted Tomatillo Chicken Enchilada Casserole from Pinch of Yum. It taught me that roasting green chiles is flavorful and delicious. So, when I saw a recipe for Slow Cooker Chile Verde on a forum, it went on my immediate "to make" list. Read More to see the recipe.
Read More…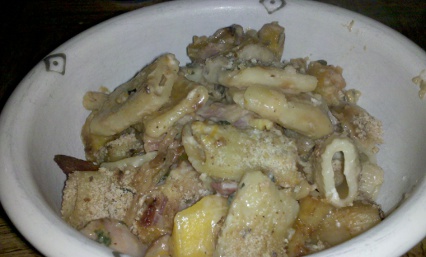 Here's a recipe that's gone straight to my make again list. The combination of flavors packs a punch - it's creamy, salty, slightly sweet, and tart. The original recipe comes from Foodess. As far as I'm concerned, she had one fatal flaw with her recipe: she only uses 3 slices of bacon.
Read More…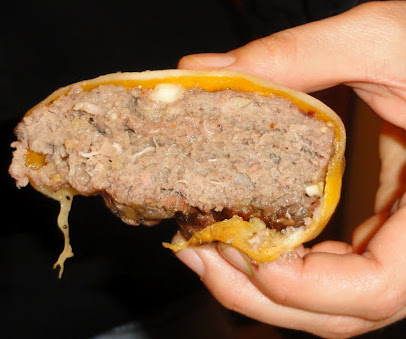 Don't be fooled by appearances, this is no ordinary burger. This is a special burger, a burger comprised of 50% ground beef and 50% ground bacon. It's pretty easy, a little bit messy, and a lot delicious. The idea came from a local restaurant that I've only had dreams of visiting, Slater's 50/50. I hope to make the trip there someday soon, but in the mean time, this is an adequate substitute.
Read More…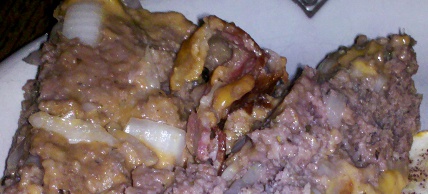 If you have any known health issues, I suggest you stop reading here. This is bad for your heart, your cholesterol, your weight, and probably your bones and even your ears. Other than the magnificent taste, I'm pretty sure there is not a single redeeming thing about this dish nutritionally. But I also think this is something you have to make once in your life. If you ever find yourself on death row, it would make a great last meal. I'd die with a smile on my face if this were my last meal. Adapted from AllRecipes.
Read More…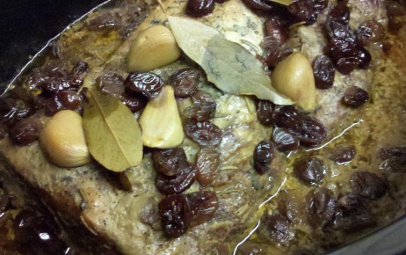 I tend to do all of my cooking for the week on Sundays. It varies from week to week depending on what sounds good - it might be a stew one week, a salad the next, and a roast the week after that. Most weeks I use chicken or turkey but I have been a bit bored with the usual so I decided to make pork. I didn't really have anything in mind when searching for the recipe, I just knew that I wanted to cook it in the crock pot. My favorite source for crock pot recipes is Crockpot365, so, with that in mind I went to the site and found this recipe. I have to admit that by the end of the week I was really sick of it. But the first few days, it was great.
Read More…
From Grub Street: On February 2, CorkBar will be serving a 3 course meal and optional wine pairing featuring local (Los Angeles) artisan bacon!
Read More…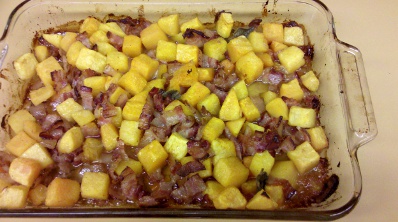 I saw the original recipe for Maple Bacon Butternut Squash Sticks from Something Edible and decided to make a recipe using the same ingredients but taking advantage of the cubed butternut squash at the grocery store so that I wouldn't have to bother cutting up a squash. I served this as a side dish with plain chicken breast, figuring that this would be so flavorful that the bland meat wouldn't matter. I was right. The bacon adds a smokey flavor contrasting with the sweetness of squash and the maple syrup, and the cayenne pepper puts a little tingle on your tongue.
Read More…