I Ruined the Meat Slow Cooker Chili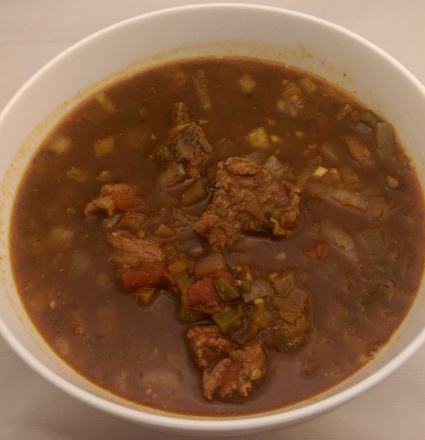 This fail is my fault and it could have been avoided. I cook a lot of chicken with my slow cooker and with enough trial and error I've solved the dryness problem (hint: it involves liquid, a mixture of chicken breasts and thighs, and just the right amount of cooking time on low). I rarely cook any type of beef. So, when I found what sounded like a delicious recipe for Texas Beef Chili on Once Upon a Chef, I tried to outsmart my cow and prepared the recipe as outlined except I put everything into the slow cooker. The result was excellent flavored chili with very tough and dry meat.
For the real deal, go here. I'm not going to bother posting a recipe I followed until I ruined the very last step. It has both bacon and beer, that should be enough incentive to at least review it.
Post Mortem:
The original recipe calls for simmering the chili for 2.5-3 hours. Rather than converting the time for a slow cooker, I threw everything in the crock pot on high and set it for 3 hours. It probably would have been better to cook on low, and likely for less time.
As with all things slow cooker, I didn't check on it while cooking because I didn't want to lift the lid. It might have been beneficial in this case since I was using that method for the first time, with a meat I don't normally cook, without having done a proper cooking time conversion. Note: I am not recommending you lift the lid while slow cooking but if I had, maybe I would have identified my issue before my meat got disgustingly tough.
While I used a good cut of meat for the slow cooker (chuck roast), since I cut it into small chunks the smaller sized pieces were also a factor in how dry and tough the meat turned out.
One thing is for sure, the meat couldn't have been tough as a result of drying out, there was plenty of liquid.
Comments: