Bacon Cheddar and Ale Soup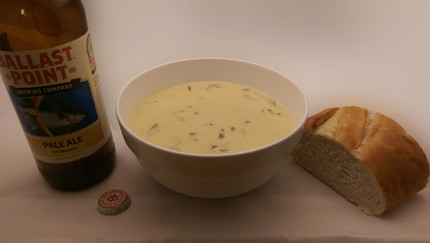 I'm pretty into soup right now. LA doesn't really have soup weather, but the last few weeks have been about as close as it gets. So, when this recipe landed in my feed, it seemed like perfect timing to try it out.
The ingredients list gives it away - this isn't one of those "new year detox soups" that is going to make you feel great and drop 10 pounds. Bacon, cheddar cheese, butter, heavy cream....you get the point. I hope you enjoy every last calorie and bit of fat. I sure did.
Ingredients:
12oz Trader Joe's Applewood Smoked Bacon, diced
1 TBSP Butter
1/2 cup onion, diced
1 TBSP garlic, minced
1/2 cup flour
7 cups vegetable broth
2 cups heavy cream
2 TBSP Worcestershire sauce
2 tsp horseradish
2 TBSP Dijon mustard
2 bay leaves
12 oz Ballast Point Ale
1/2 lb Trader Joe's Cave Aged Farmhouse Cheddar, shredded
Salt and pepper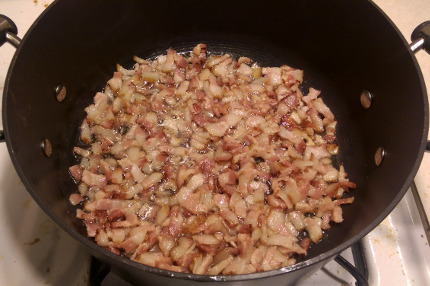 Heat a pot over medium heat and add the bacon. Cook until the bacon is nearly done.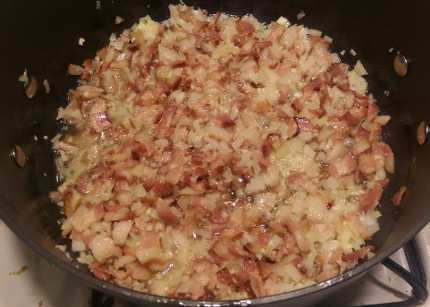 Add the butter, onions and garlic. Cook until the onions are translucent.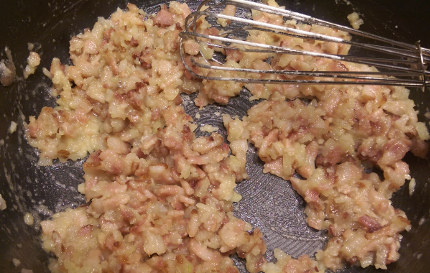 Add the flour and make a roux. Keep stirring!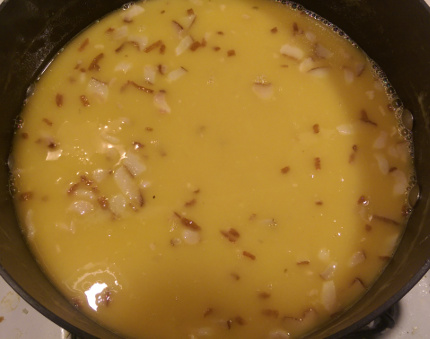 While whisking, slowly add the vegetable broth until it's incorporated.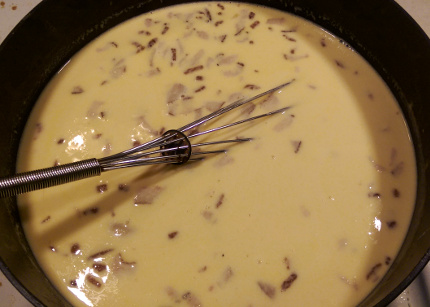 Do the same with the heavy cream. Once the cream has become one with your soup, bring it to a boil and add the Worcestershire sauce, horseradish, mustard and bay leaves. Reduce the heat and simmer for twenty minutes.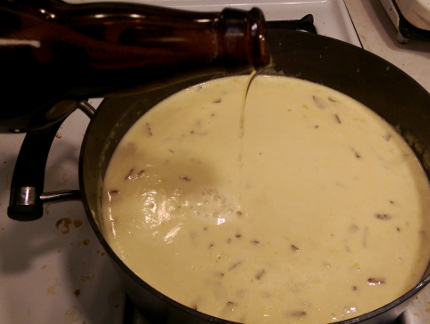 Add the ale.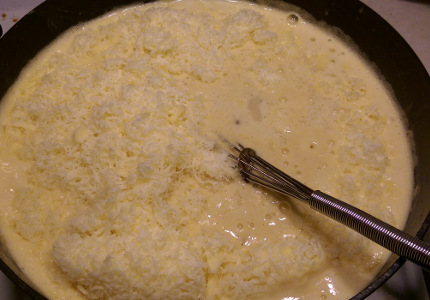 Add the cheddar cheese and whisk until the soup is smooth. Remove the bay leaves. Adjust seasoning with salt and pepper if you feel like it.
Notes:
I served this with a side of french bread. This makes for a great dipping soup, have some bread with it.
The original recipe calls for Sierra Nevada Pale Ale, but I'm not the biggest fan of that so I picked up the Ballast Point. At the end of the day, I am pretty sure I would have liked the soup even if I had used Sierra Nevada
The original recipe calls for Fiscalini Farms Cheddar which I couldn't find so I used a similar style cheese.
The original recipe calls for 6 strips of bacon, but it seemed silly not to use the entire pack of bacon I purchased since there would have been 2 strips left over. Why wouldn't more bacon be better, anyway?
I added one extra cup of vegetable broth, only because I would have had one cup leftover.
I was concerned about the horseradish because I really don't like it at all, but you can't taste it. There is a lot to the flavor of the soup, I'm pretty sure I would not have been quite as happy with how it turned out if I had skipped the horseradish.
I served this as a meal on its own. It's not a hearty soup but it's so rich that it was satisfying and filling.
Comments: