Rigatoni with Bacon Butternut Squash and Goat Cheese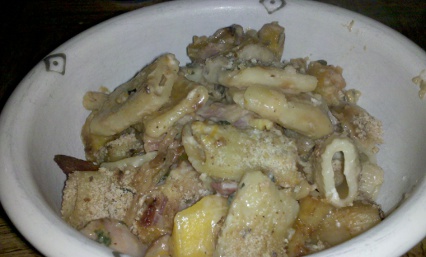 Here's a recipe that's gone straight to my make again list. The combination of flavors packs a punch - it's creamy, salty, slightly sweet, and tart. The original recipe comes from Foodess. As far as I'm concerned, she had one fatal flaw with her recipe: she only uses 3 slices of bacon.
The fact that you have to cook the squash ahead can make this one a bit time consuming. The good news is that you can easily do that a few days in advance and save it until you're ready to cook the pasta.
Ingredients
1 or 2 lb butternut squash
oil
1 lb rigatoni
1 pack bacon
1 large onion, sliced thin
1/2 tsp sugar
4 TBSP butter
4 TBSP flour
3 cups milk (I used 2%)
pepper
nutmeg
4.5 oz goat cheese, crumbled
1/4 cup sage leaves, chopped
1/3 cup bread crumbs
salt
At some point in this process, you're going to need to cook your pasta. Keep it in mind because I'm not putting instructions on how to do it or when to do it. I made my pasta at the same time as I made the sauce, following the instructions on the box.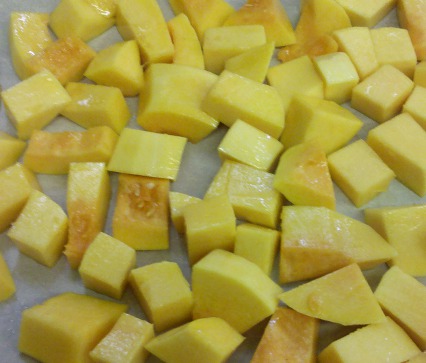 Cook your butternut squash. Again, you can do this step a few days in advance or at the time that you're putting the dish together. Preheat your oven to 400 degrees. Peel the squash so it's easier to cut, then cube and seed it. Toss the cubes with some olive oil, salt, and pepper. Spread it on a baking sheet and cook it until it's tender. It took me about 35 minutes (the original recipe says 25 minutes). Once your squash is done you can set it aside temporarily.
While your squash is cooking, you will want to cook your bacon. I saved some time by cooking mine in the oven at the same time as the squash. Use your preferred method, but keep in mind you will want to reserve a few TBSP of the bacon fat to cook the onions in. When your bacon is done to your liking, set it aside on a paper towel to cool and remove some of the grease. I'd recommend letting at least some of your bacon get crispy, it adds a nice texture contrast from the other elements. Once your bacon is cool, chop it up.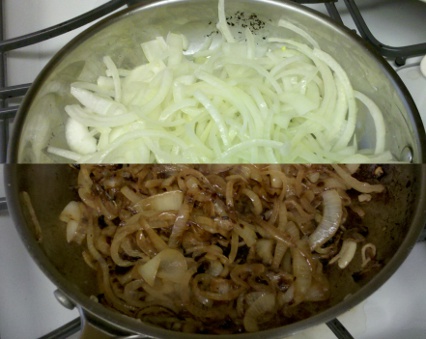 Take about 2-3 TBSP of the bacon fat and put it in a pan on the stove. Once it's hot, put your onions in the pan and add the sugar. Cook on medium-high until they are caramelized. You will want to stir them occasionally on that step. The original recipe calls for you to add balsamic after your onions are done, but I forgot that step. They were still delicious.
To make your sauce, you want to melt butter in a saucepan until it is brown and smells nutty. Then you'll whisk in the flour and cook for about 2 minutes. Continue whisking as you slowly pour in the milk. After about 10 minutes, the sauce should thicken. Add a pinch of nutmeg and salt and pepper to taste.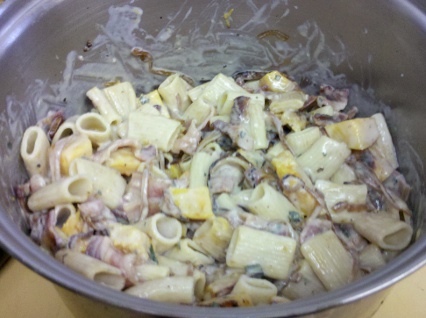 Mix your butternut squash cubes, caramelized onions, chopped bacon, goat cheese, sage, and sauce in a large bowl. Move it to a greased baking dish and top with the bread crumbs. Bake on 375 for about 20 minutes. **I assembled everything and put it in the dish, but kept it covered in the refrigerator until we were ready for dinner. It increased the cooking time to about 35 minutes.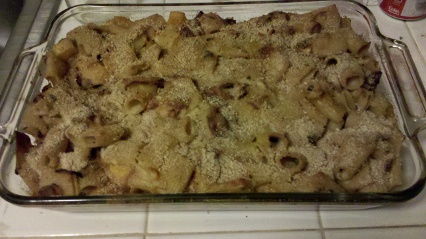 Comments: