Crock Pot Hirino Psito SlowRoasted Pork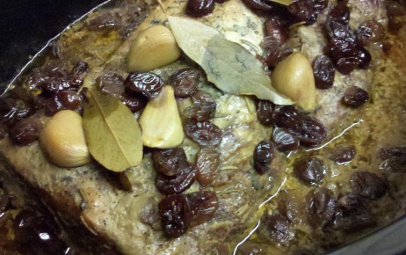 I tend to do all of my cooking for the week on Sundays. It varies from week to week depending on what sounds good - it might be a stew one week, a salad the next, and a roast the week after that. Most weeks I use chicken or turkey but I have been a bit bored with the usual so I decided to make pork. I didn't really have anything in mind when searching for the recipe, I just knew that I wanted to cook it in the crock pot. My favorite source for crock pot recipes is Crockpot365, so, with that in mind I went to the site and found this recipe. I have to admit that by the end of the week I was really sick of it. But the first few days, it was great.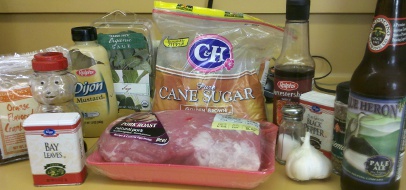 3 lb pork butt
10 garlic cloves
3 bay leaves
1 tsp sage
1 tsp rosemary
1 Tbsp Worcestershire sauce
1 Tbsp Brown sugar
1/4 cup dijon mustard
1/4 cup honey
1/2 cup dried cranberries
1 cup beer
salt & pepper
Instructions:
Put the pork in the slow cooker and coat well with dry spices, brown sugar, salt, and pepper. Place the garlic and the bay leaves on top.
Mix all of the remaining ingredients in a bowl and pour over the meat.
Cook on low for 6-8 hours. The pork will be fork tender when it is done.
Comments: