Maple Bacon Butternut Squash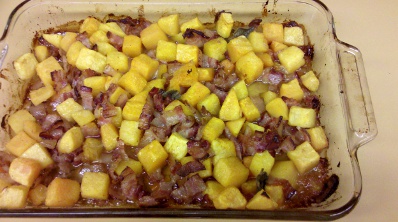 I saw the original recipe for Maple Bacon Butternut Squash Sticks from Something Edible and decided to make a recipe using the same ingredients but taking advantage of the cubed butternut squash at the grocery store so that I wouldn't have to bother cutting up a squash. I served this as a side dish with plain chicken breast, figuring that this would be so flavorful that the bland meat wouldn't matter. I was right. The bacon adds a smokey flavor contrasting with the sweetness of squash and the maple syrup, and the cayenne pepper puts a little tingle on your tongue.
2lb package of cubed butternut squash
1 package bacon, chopped
1/2 cup Real Maple Syrup
6 leaves fresh sage
Ground cayenne pepper (I didn't measure this, instead eyeballed it - I'd guess it was 1/2 tsp)
Instructions:
Place the chopped bacon and cubed squash in a glass baking dish.
Add the maple, sage, and pepper to a small saucepan and bring to a light boil. Reduce the heat to low. Cook for a total of about 10 minutes. When it is done, there will not be a huge noticeable difference in the mixture, except the leaves will look wilted.
Cook the bacon and squash in the oven set to 425 for about 40 minutes. At 15 minute intervals, add some of the maple sauce and mix.
Let the bacon and squash rest for about 10 minutes before serving. I'd also recommend draining some of the bacon grease.
Comments: