Short Rib Chili with Chocolate Stout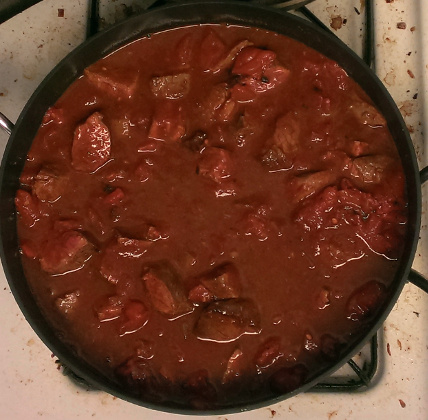 Last week, I went to the store without a plan, which is generally a bad idea. Normally, I'm not so good at shopping without something specific in mind and I end up with 11 ingredients that don't go well together and a pint of ice cream. I had it in my head that I wanted something beefy, but I wasn't sure what that might be. When I saw boneless short ribs, I remembered a really delicious short rib chili I once had, so I Googled a recipe while I was in the store, picked up all of the ingredients, and off I went to cook. Food 52's Short Rib Chile was actually third on Google's list of results, but it has recently become a favorite site of mine so it was a no brainer.
Overall, this chili was great, something I will definitely make again. I made some modifications based on our preferences and what I knew I had on hand at home. The original recipe calls for beans and tortilla chips, as well as whole coriander and cumin seeds; the beans and chips I omitted completely, and I used preground spices in place of the seeds.
Ingredients:
2 lbs boneless beef short ribs
1 Red Bell Pepper
2 dried ancho chiles
2 dried guajillo chiles
2 cups water
1.5 Tbsp ground coriander
1.5 Tbsp ground cumin
1 tsp coarse salt
1/2 tsp ground cinnamon
1/2 tsp chipotle powder
1 Tbsp cocoa powder
1 Large yellow onion, chopped
4 cloves of garlic, smashed
1 Tbsp Mexican oregano
1 Tbsp tomato paste
28 oz fire roasted tomatoes
1 cup chocolate stout (shout out to Young's Double Chocolate Stout)
Hold the red bell pepper by its hopefully long stem over an open flame on your stove. Char as much of the bell pepper as you can handle, place in a bowl, cover it, and set it aside until it's cool enough to handle. It's easiest to skip to the next steps while your pepper is cooling. Peel off as much of the bell pepper skin as you can. There are other methods of doing this step or you can buy fire roasted bell peppers at the grocery store, but this method is cheap and easy.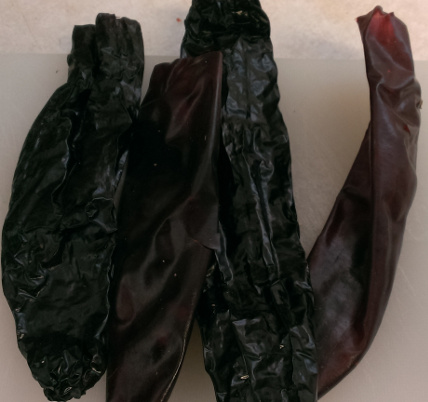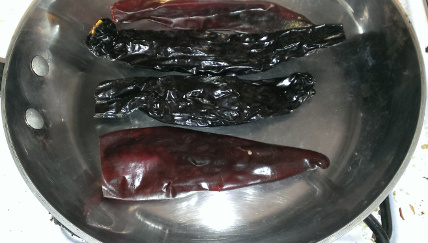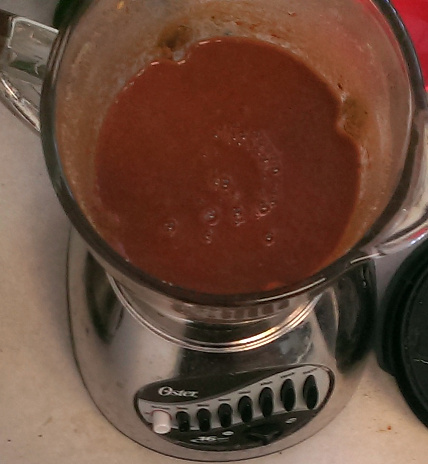 Heat oil in a pot and brown the short ribs. Set them aside on a plate. I cheated a bit in this step and browned the larger pieces of short ribs and then cutting them, rather than cutting and then browning. I find it's much easier to manage that way.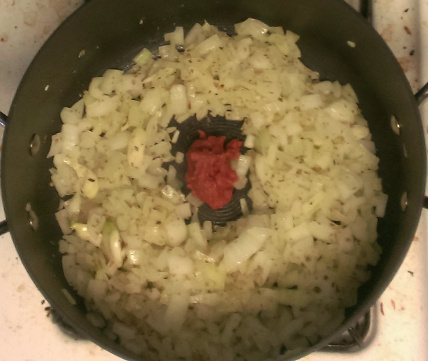 Add the short ribs back to the pot, along with the chile puree, the fire roasted tomates, and the stout. Stir. Cover and simmer over low heat for about 4 hours. Enjoy the remainder of the Chocolate Stout bottle.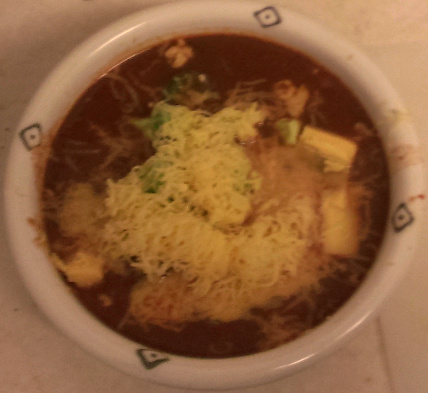 Comments: