The most interesting bacon and beer stories of the week, according to me:

Read More…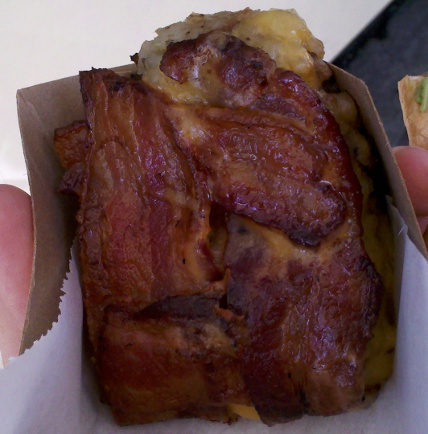 When the food truck trend first emerged, I had a hard stance on it: there's no way I'd follow a "restaurant" on Twitter just so I could find where it was parked if I had a craving for it. Ridiculous. My stance has loosened a bit lately thanks to The Truck Stop at Beverly and La Brea, simply because it's on my way home from work and I know that there will be trucks there. Since I don't have a taste for any trucks in particular it works out well. My dinner will have variety, I get to try something new, and I don't have to deal with Twitter or worse, Facebook.
Read More…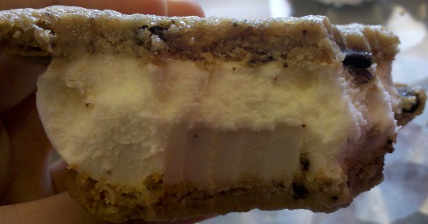 I have a confession to make. I really, really wanted to try the Thai Iced Tea Ice Cream sandwich, but for the sake of this blog I got the Candied Bacon Ice Cream one. It's not that bacon in a dessert sounds bad to me. In fact, I got my ice cream maker with the sole purpose of making a batch of bacon ice cream. One of the best cookies I've ever eaten was a bacon chocolate chip cookie. It's just that Thai Iced Tea Ice Cream sounds incredible. Now that I've got this Candied Bacon Ice Cream Sandwich in the bag, I feel free to purchase any other Coolhaus flavor guilt free.
Read More…

Our annual baseball trip has been over for a week, and I have been too lazy to update. We finished up our trip with two days in Detroit and three days in Toronto. Detroit was easily the worst place I have ever visited. I was naive to think that all of the horror stories I've heard about it were exaggerated, but I can confirm that they are indeed true. We stayed in the Westin renovated Book-Cadillac hotel and it was wonderful. The rest of downtown seemed incredibly deserted, with so many abandoned glorious skyscrapers in the process of decay, that I wasn't all that interested in seeing the city. Toronto on the other hand was wonderful. We stayed right on the harbor, which was in walking distance of just about everything. I hope to make it back there sometime.
Read More…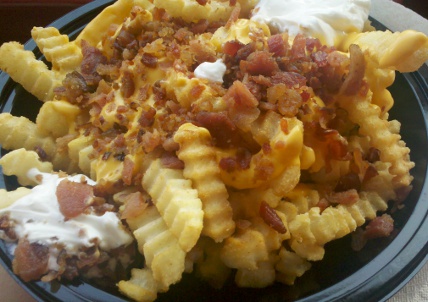 It's time for our annual baseball trip. I'm in our hotel room right now in downtown Cincinnati having just returned from watching the Cubs lose another pathetic game to the Reds. I don't have much to say about Cincinnati or the Great American Ballpark, although stopping here was an opportunity to see a good friend I haven't seen in a year. Whereas other ballparks we have gone to have featured a lot of regional food that represents what the city might be known for, Great American Ballpark seemed to have about 12 different varieties of hot dog stand. So, either I'm misinformed, or Cincinnati is known for hot dogs.
Read More…

A few months back, we took a weekend trip to Palm Springs. Before checking into our magnificent hotel, we stopped at a wine shop that was supposed to have a sangiovese that we enjoy but is a bit difficult to find in stores. The shop didn't have the wine. They did have a small but thoughtful beer selection. I am under the impression that the owner takes great care in curating the beers they sell there, because there is only a limited selection and much of it is from small local breweries. The first beer we tried was the St. Peter's Cream Stout from St. Peter's Brewery Company, a drink only available at 2 stores in Los Angeles.
Read More…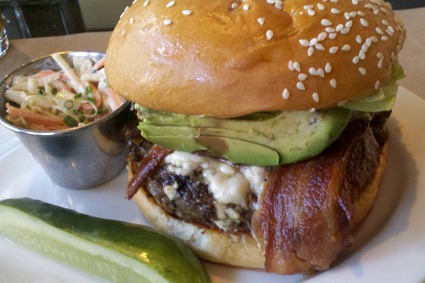 Los Angeles has hit a burger saturation point. A new premium burger restaurant isn't exactly news or surprising. It seems nearly every restaurant has a take on the burger these days. It's not a complaint, I'm an admitted burger lover. It just makes it more difficult to differentiate between the riff raff and the real deal. So, of course, news that Go Burger opened in Hollywood a few weeks ago wasn't actually news, but it certainly was exciting. Having been to BLT Steak, my mind couldn't help but imagine how wonderful the new burgers might be.
Read More…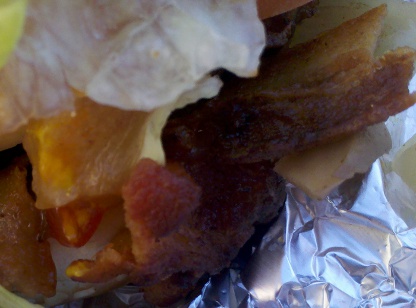 Each month, a group of friends gets together to try a different burger around LA. The gathering began a little over a year ago, when a friend from high school decided to work her way down a top ten list of LA burgers and invited her friends along for the ride. Last month, we went to Five Guys Burgers and Fries, making the trek all the way to Carson.
Read More…
Most of Jones limited edition sodas sound like drinkable versions of my favorite sweet treats, but over the years they have introduced a handful of savory flavors. This year, Jones released a limited edition bacon soda for the holidays. I didn't have high expectations and beyond taking a couple of sips I really didn't think it was all that drinkable. Rather than rely solely on my opinion, I filmed the reactions of a bunch of other people. The results were a resounding "yuck". Read more to see the video.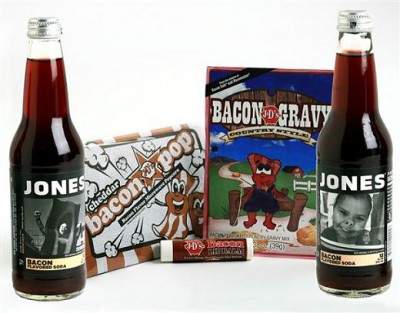 Read More…

I tried a new beer last night at Soi 56.
Read More…