Crock Pot Beer Braised Pork and Black Beans
The original recipe that I found refers to this as a soup, but if anything I'd call it a stew. Even then, the beans do a pretty good job of soaking up every last bit of liquid in the crock pot so I probably wouldn't call it a stew either. This is a recipe where you throw everything in the crock pot, go to work or shopping or for a massage, and come back to a hot meal in a few hours.
I had really hoped that this would turn out really flavorful from the beer, but I found it fairly bland and any flavor from the beer was hard to detect. I'm sure I made the mistake of not adding salt. However, that was something a little salsa and Tapatio could fix. I wouldn't recommend adding this without adding salt, using a stronger flavor beer, or serving with various condiments at the end, but as long as that's part of your plan this is cheap and easy and goes a long way.
Ingredients: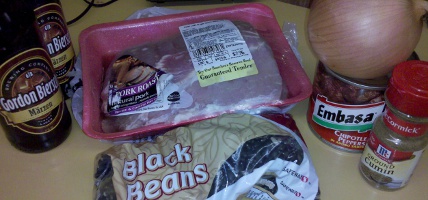 3 cups water
24oz Beer
1 Tbsp canned chipotle chiles in adobo sauce (I'd recommend more)
1 Tbsp adobo sauce from canned chiles
1 Onion, chopped
1 lb dried black beans
2 lbs pork butt or shoulder
1.5 tsp salt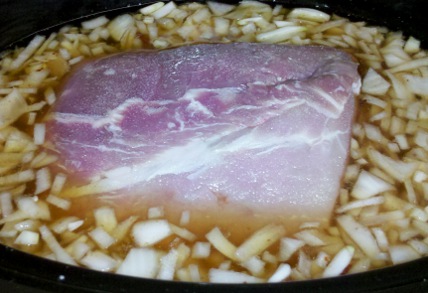 Add all ingredients to crock pot. In addition to the 1.5 tsp salt that the recipes calls for, I would recommend seasoning the pork with salt before placing it in the crock pot. Cook on low for about 6.5-7.5 hours. Shred the pork with a fork and mix everything together. Serve with your preferred condiments - I used chipotle salsa and Tapatio.
Comments: