Bacon and Beer Soaked Cheese
Just in time for the holidays, Sam Adams teamed up with Beecher's Cheese to create 4 easy soaked cheese recipes. Each of the recipes has a place here, but only Bacon and Beer Soaked Cheese holds a special place in my heart. Read more to see the recipe.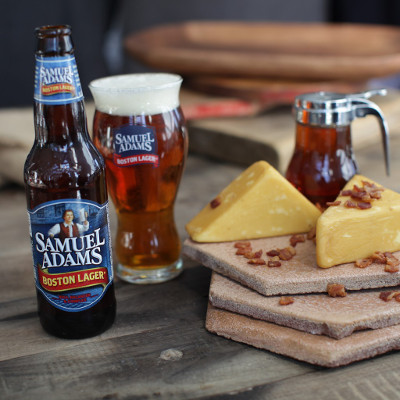 Ingredients:
32 oz Sam Adams (or any lager of your choosing)
6 oz maple syrup
16 oz apple cider
1/2 tsp whole black peppercorns
1 cup cooked crumbled bacon
1 block of creamy jack cheese
Bring the lager and maple syrup to a boil together in a pot. Once boiling, reduce the heat and simmer for 5 minutes.
Add the apple cider, peppercorns and bacon. Once completely cooled, add the cheese, cover the pot and let it soak in the refrigerator for at least 3 days (soaking for up to 7 days will give an even more dramatic color and stronger flavors to the cheese).
You can read more about this recipe or see the others at Food and Wine.
Comments: