Bacon Wrapped Jalapeno Popper Grilled Cheese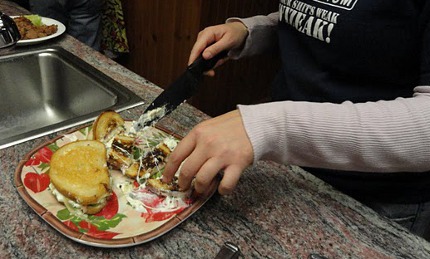 Over the weekend, we had our annual cousins snow trip. The last few years, our trip has featured a cook off. This time, it was grilled cheese. I figured that to win, I'd have to go way over the top. Given the amount of beer consumed over the weekend, I decided that my grilled cheese should pay homage to a great beer drinking snack - bacon wrapped jalapeno poppers. Instead of frying up some poppers and putting them in the sandwich, I used the idea of a popper and put those flavors into sandwich form.
8 slices of sourdough bread
1 lb bacon
1 brick of cream cheese, room temperature (use the block of cream cheese, whipped will just be a hot mess)
4-6 jalapenos (depending on how spicy you want your sandwich)
16 slices of mild white cheese (I used provolone)
Yields 4 sandwiches
In the oven, roast the jalapenos on one rack and cook the bacon on a second rack at 350 for about 30 minutes, until the jalapenos are soft and the bacon is crisp. Save the bacon grease.
Allow both ingredients to cool. Once they are cool, chop them both, discard the jalapeno ribs and seeds.
In a mixing bowl, mix the cream cheese, bacon, and jalapenos.
Place 2 slices of cheese on 1 piece of bread. Spoon 1/4 of the cream cheese mixture on top of the cheese. Place 2 more slices of cheese on top of the mix and place the second piece of bread.
Heat a tablespoon of the bacon grease in a pan. When it's hot, grill your sandwich. Cook until the sandwich is to your liking. Add more bacon grease as necessary.
Expect your sandwich to be ooey and gooey. Don't plan on cutting it, your sandwich contents will end up all over your plate.
The competition in the cook off was pretty tight. One other recipe featured carmelized bacon and dates. That's a recipe I will tackle some other time. The winner was a multi cheese grilled cheese with a heavy dose of garlic. I'm going to tackle that one later as well because I already know how to improve it...bacon!
Comments: